Pacific Grove Chardonnay
Price: $5.99
Year: 2014
Region: California
Retailer: Trader Joe's
WINNER WINNER CHICKEN DINNER!! I'm not big on cooking (my fridge will be the first to tell you), but when I do….Hot Damn! (in my Bruno Mars voice) Last night, I made this AH-MAZING shrimp and scallop pasta dish courtesy of Pinterest aka my guide to future domestication. It was so "wife me up and have ALL my babies" good that I made the dish again tonight. Let's just say, I just might be the next Black Emeril Lagasse in the making. * insert a pound for the cause * #BAM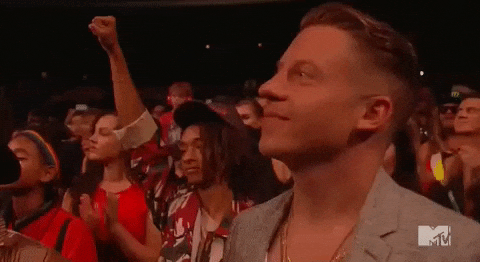 Anyways, the recipe calls for the shrimp to be marinated in Chardonnay. I'd never cooked with wine before…I've drunk wine while cooking, but never included it in any of my dishes. Next level cooking for the domestication win! I'm not a Chardonnay drinker, but I had recently bought a bottle of Pacific Grove Chard in an effort to try new wines for the blog. Per the recipe, I poured a cup and half in the skillet and then poured a glass for myself per my own request. I mean…I had to taste what I was putting in my food. Check out my thoughts below on this California Chardonnay.
Ty's Takeaways…
Sometimes the best things in life are the things that come unexpectedly and without expectation. That's how I feel about this Pacific Grove Chardonnay. I really didn't have high hopes for it. But wine luvhers, when I tasted this wine along side this dish…I wanted to bust into Beyonce's formation dance. #cuzislay

Pacific Grove Chardonnay is made from 100 percent Chardonnay grapes that have gone through 100 percent small batch barrel fermentation, as well as 100 percent malolactic fermentation (similar to how Vinho Verde is made).
This wine has crisp yet subtle tropical fruit aromas. I got hints of green apple with the softness of peaches. This might sound crazy, but the more I let the aromas open up the more I caught the scent of Starbursts. Although heavy on the fruit forward aromas, this Chard is more than that in taste. The fruits are complemented by bits of vanilla and caramel, which make for an enjoyable aftertaste. While full-bodied, it doesn't taste that way. I found it very smooth in weight and buttery in texture. This Chard is low in acidity with a little bit of tartness on the backend. However, this wine is so smooth that you won't even notice it. No wonder, Pacific Grove went so perfectly with my light, savory pasta dish. A match made in wine heaven, indeed!
Overall Rating: 4 Corks
Buzzworthy: Pacific Grove Chardonnay has 13 percent ACL per volume. Again, most reds range from 12-15 percent. White wines typically range from four to 13 percent, so this Chard is on the higher end. I can't stress enough how surprised I was that I actually liked this Chardonnay. And for only $5.99 at Trader Joe's, this is definitely a steal!