Left Coast Wine Cellars White Pinot Noir
Region: Oregon
Vintage: 2015
Varietal: 100% Pinot Noir
Cost: $16.99
Retailer: Kroger's
Summer '15 was all about red wine for me. For eight months straight, reds were pretty much all I drank. But, life happens, taste buds change and I realized reds just weren't doing it for me anymore. I needed to return to my first love of white wines.
So, Summer '16 has been all about white (and some Rosé) wines. I recently discovered White Pinot Noir while checking out Cork & Tap at Krogers. I was looking for a white to order and none of the options appealed to me. I glanced at the red menu and saw a couple of Pinot Noir options. Although, Pinot Noir is one of my top favorite reds,  I really wasn't in the mood for a red. Then I looked back up at the list of whites and saw a Pinot Noir. What?!?! A White Pinot Noir!!! It was like finding a pot of gold at the end of a rainbow. I felt like I had hit the jackpot. My favorite red as a white wine…
Do you believe in love at first sip? Because ever since that fateful Saturday a couple of weeks ago, all I want to drink is that White Pinot Noir. Listen Linda! I went back and picked up a bottle to write an official review just for you because you should be drinking this wine too! Check out why I'm crushing so hard on this white!
Ty's Takeaways…
So, when it comings to making wine in the U.S., the left coast is definitely the BEST coast. Hence, the name of the maker of this oh-so-delicious wine. Left Coast Cellars Estate is one of the largest vineyards in Oregon's Willamette Valley, spanning 350 acres, with approximately 150 acres under vine including Pinot Noir (61%), Pinot Gris, Chardonnay, Pinot Blanc, Pinot Meunier, Syrah, and Viognier.
For those wondering how White Pinot Noir is made…it's made just like white wine. Wine color comes from grape skins. Winemakers produce white wines from red grapes— by getting rid of the skins early in the fermentation process. Left Coast Cellars' 2015 White Pinot Noir was fermented and aged over five months in stainless steel. The Pinot Noir grapes were harvested from September 10 – October 6, 2014. Pretty cool facts that Left Coast provides on its website.
The aromas of this white are so soft and subtle. I got bursts of citrus, green apple, and peach…all vying to get my attention. The taste of this wine is on a whole other level…very complex, yet so satisfying that you're willing to put aside its differences. I say this because at first you get a burst of acidity and tartness on the tongue, then it's suddenly finishes with a hint of sweetness on the backend. It's like a tidal wave of flavors. If you're patient enough to ride out the acidity, you'll end up with a pleasant a refreshing surprise at the end. More flavors of citrus with a hint of honey come through. This wine is definitely best serve cold, so that you can get those crisp flavors.
Overall Rating: 5 Corks
Buzzworthy: OMG! I think I just gave my first five cork rating! I absolutely love Left Coast Cellars' White Pinot Noir! It definitely tops my old fav The Doctors Sauvignon Blanc. At 13.7 percent ALC by VOL, this wine is definitely off-the-charts buzzworthy. White Pinot Noir is a good reminder that that when you stay true to yourself, good things will follow. This was just the pick me up I needed to get through the remainder of the summer. I'll definitely have to keep this White Pinot Noir in heavy rotation in my household. I could drink this wine all day, everyday. But don't worry…you won't catch me like this…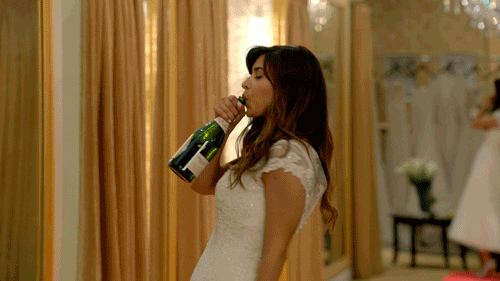 At least not during the week ;)
I highly recommend that you find out where this wine is sold in your area and pick up several bottles. It's YGOM approved! Until next time…