Varietal: Cabernet Sauvignon | Region: California | Retailer: H-E-B | Price: $3.77
Oh, boxed wine! Why do so many people hate on you? Just the mere mention of it and people automatically shutter.
For whatever reasons, boxed wine is often considered cheap and low in quality. That, my wine friends is not always true and I will prove that to you! It may not be my first preference when I go wine shopping, but I'm definitely not opposed to drinking from the box.
Last Friday, I was picking up ingredients for the red wine hot chocolate that I recently blogged about over the weekend. The recipe calls for a cup of red wine. I have tons of bottles of red at home, but didn't want to open a full bottle since I haven't really been drinking reds lately. So, I was going to pick up a pack of mini bottles, when I came across the Bota Mini. I honestly picked it because it was the least expensive (I was trying to save money) and knew that it would be the perfect amount for cooking.
Fast forward to when all the magic happened. While I was stirring the pot of hot chocolate, I decided to try some of the Cab from the Bota Mini. I mean all that manual labor from stirring called for a sweet reward. And, let me tell you…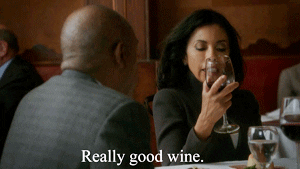 I knew I had to blog about it after the first sip. But, I couldn't forget my hot chocolate post first. It actually turned out really great, so I decided to post a teaser on Instagram, which included a picture of the hot chocolate with the boxed wine. To my surprise, I received some side eyes. Peep the comment below from my friend:
Yaaaasssss, dat box wine doe! And let me tell you why!!
Ty's Takeaways…
I poured some of the Cab into a glass and couldn't believe what happened next! This cab is filled with beautiful aromas of deep red fruits, such as dark cherries and plum. I  got some nice complementary undertones of oak as well. This medium bodied red is so smooth that the red fruit flavors are very light on your tongue. Although this is a dry red, its tannins are not unbearable. It actually has a nice finish that will have you wanting more.
The cool thing about Bota Box is that its wine is made by Delicato Family Vineyards, a family-owned California winery founded in 1924. Bota Box also comes in larger sizes: 3-liter and 1.5-liter. The mini box contains 500ml of premium wine. That's equivalent to three 5.6 oz. pours that only cost me $3.77! #winning
Rating: 4 Corks
Sip, Chug, or Cork It? Definitely sip it! A solid Cabernet Sauvignon choice for a good price. If you're gangsta, you can sip it straight outta the box. But, if you're that offended by the box, then just pour it in a glass.
Boxed wine: Here for it or could do without it?