Varietal: Unknown | Region: California | Retailer: Suite Four | Price: $19.99
Having a week off before I start my new job has been pure heaven! It has afforded me long overdue "ME TIME" and allowed me to catch up on much needed reading (sike!) wine drinking. I finally got a chance to try the new Suite Four sparkling wine. Last summer, Suite Four was founded by Cyrina Yarbrough, a Cali native now living the D.C. life, in an effort to create an unpretentious wine that millennials could drink whether it's in a fancy flute or in a red solo cup.
And that's what initially drew me to Cyrina's story when we first connected a couple of months ago. She get's it! Everything about wine doesn't have to be formal. With Suite Four, Cyrina has created a universal wine that anyone can enjoy no matter what stage you're in on your wine journey. I applaud her determination to break into the wine industry and re-define the preconceived notions of how wine should be experienced. Let's keep it real…you don't have to travel to every wine region or be well versed in wine lingo to appreciate good wine.
Ty's Takeaways…
I honestly didn't know what to expect with this sparkling wine. I was just praying that it wouldn't be sweet! I decided to save Suite Four for a special occasion. So, when I got my ah-mazing, new job offer, I knew it was time to pop open this bubbly.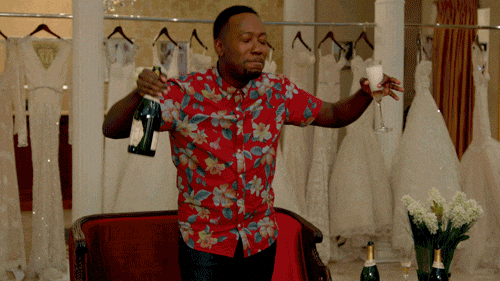 First off, I was in a rush to drink this wine after an unsettling week at work, so I put it in the freezer to chill for a minute couple hours…oops, my bad. I accidentally left it in too long, so it had a bit of a slushy consistency to it, which turned out to be super delicious! So quick side note, Suite Four is also good slightly frozen :) But, I digress…let me get back to my review.
The moment I took a sip, I knew that Suite Four and I were going to be best friends. Yessssss!! It was an instant connection. That Pam and Gina, Meredith Grey and Christina Yang closer than close type of friendship. I immediately wanted to celebrate!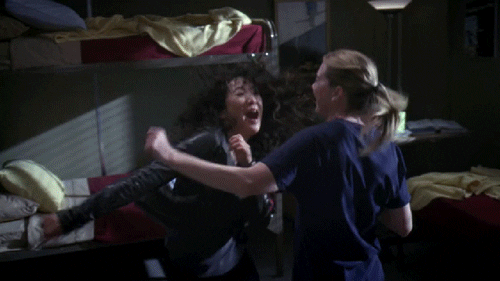 Maybe it was because I had over-chilled the wine, but I found it to be very crisp and refreshing. Suite Four may also work for a nice summertime spritzer this year. Anyways, after drinking this wine, I felt like I had been invited in on a little secret and wanted to share with others. I wanted someone else to feel what I was feeling in that very moment.
The aromas of this sparkling wine are soft and sweet. It reminded me of Martinelli's Sparkling Apple Cider. On the palate, you get flavors of green apple and peach, with hints of honey and vanilla. I was happy to discover that this was not a sweet sparkling wine, but it also wasn't completely dry either. It has the perfect balance, with the bold fruit flavors taking center stage. Plus, the wine gives off this nice effervescence, that turns this wine into a great dance party in your mouth. Hence, why this sparkling wine was the perfect choice to celebrate this next season in my life!
Rating: 4 Corks
Sip, Chug, or Cork It? 
Cyrina has definitely accomplished her goal of creating an affordable wine that millennials can truly appreciate! But, please note that you don't have to be in your 20's or 30's to enjoy this wine! Suite Four is double-fisting sip-worthy.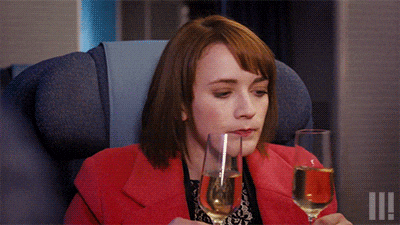 If there was ever a wine anthem for celebrations, Suite Four would be the official representative. Trust, you won't want to put this wine down. It's that good!
**I received a complimentary bottle of Suite Four sparkling wine. All opinions are my own.